Are you wondering: I got hit by a car on my bike, can I sue? If so, let's answer your question.
According to Cycling UK, 1.4 million people in England cycled around three times a week in 2018/2019. But, this number could rise thanks to the £2 billion package created to encourage more people to walk and cycle.
With that being said, it's important to be aware of the risks cyclists and motorcyclists face. Both are categorised as vulnerable road users, with around 6% of pedal cyclists accounting for fatalities as found in the Reported Road Casualties in Great Britain: 2019.
Additionally, the report found that there were 4,433 cyclists killed or seriously injured in 2019.
Although that report doesn't detail the nature of the accidents, we aim to inform you of different cycling accidents and what you could do if you're injured because of one that wasn't your fault.
Browse The Guide
What Is A Cycling Accident?
A cycling accident involves a cyclist and another road user crashing into each other. Whether it's a side-impact crash, head-on collision or car park accident, it can be a shocking experience. 
It's difficult to determine how common these types of accidents are. But, the Department for Transport recorded that, on average, 62 pedal cyclists were seriously injured every week between 2011-2016 in Great Britain. 
In comparison, the Department for Transport recorded 4,455 serious accidents involving pedal cyclists in 2020 alone. 
A serious cycling accident may involve either party sustaining multiple injuries, such as:
Road rash

Broken or fractured bones

Spinal injuries
Head injuries

Strains or sprains 

Lacerations 

Burns 
The injuries could range from minor to severe. However, they can often cause debilitating symptoms that impact your day-to-day activities.  
How Do Cycle Accidents Happen?
There are various ways in which a cycling accident could occur. Often, they are unavoidable or caused by external factors, such as extreme weather conditions. 
However, it's important to take care to avoid causing another road user harm when using the road.
Under The Highway Code, every road user has a duty of care to use the roads with standard care and skill to prevent others from coming to harm. A driver could fail to do so by:
Not checking mirrors when overtaking a cyclist or motorcyclist

Failing to allow enough space when overtaking a cyclist or motorcyclist

Speeding through traffic lights at a junction 
How To Protect Yourself On The Road
Although, as a road user, you have a duty of care to protect others, you also have responsibility for your own safety. For instance, The Highway Code sets out guidance and rules for cyclists such as:
Wearing a cycle helmet 

Wearing appropriate clothing, e.g. reflective clothes in the dark and light-coloured or fluorescent clothes in the daylight or poor light  

Taking care to signal to other road users when turning

Being aware of hazards on the road, such as other road users and road works 
Additionally, it's important to have a good position on the road when cycling in traffic. This could involve ensuring you're not too close to the kerb. 
Having a good position can help you avoid drain grids that can often be slippery, as well as debris that can end up at the side of the road.
What's more, it gives you extra space to use if someone overtakes you too closely.  

What Steps Should I Take If Hit By A Car On My Bike?
There are a few steps you could take following an accident, for instance:
Seek medical advice: Medical treatment can ensure your injury is cared for correctly. Additionally, it can prevent any complications from developing.
Gather personal details: For insurance purposes, it can be important to gather different details from the driver or motorcyclist involved in your accident, such as n

ame, address and v

ehicle registration number. 
Report the accident to the police: If the police weren't present at the time of the accident, you must report it to them within 24 hours. However, if no other vehicles were involved in the accident, you don't need to report it to the police.
Report the accident to your local council: If a pothole or another obstruction on the road caused the accident, you could report it to your local council.
Gather evidence: It can be beneficial to gather evidence that someone else was responsible for the accident if you want to make a cycling accident claim. Evidence might include:
– Photographs of the accident scene and any injuries you sustained
– Contact details of any witnesses 
– Footage of the accident from CCTV or dashcams 
– Police reports, if applicable 
– Medical reports detailing the nature of your injury
For more information, see this guide on dealing with a cycling accident. 
Cycling Accident Statistics
When looking at the statistics for 2020, it's important to consider the impact of lockdown.
According to a government report, pedal cyclist traffic increased, as did the rate of fatalities for this particular road user.
In fact, there was an average of 6 pedal cyclist fatalities for 2017-2019, which increased to 17 in 2020.
Additionally, the graph below shows the severity of the harm pedal cyclists sustained in different accidents during 2020 in Great Britain. The Department for Transport has provided the figures.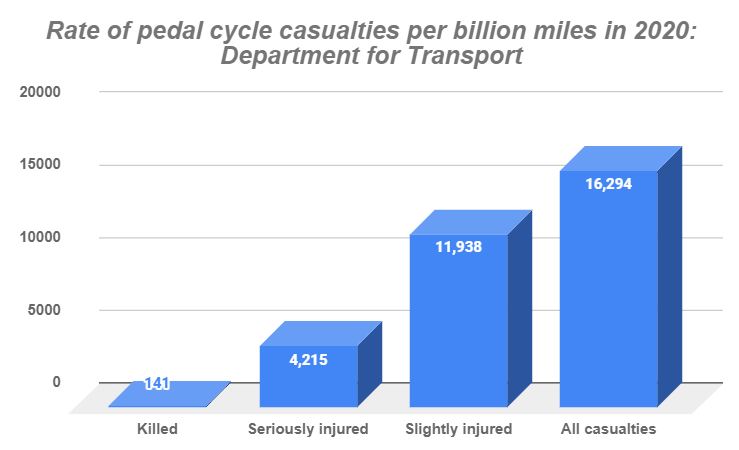 As you can see, the majority of pedal cyclists were slightly injured in accidents.
I Got Hit By A Car On My Bike, Can I Sue?
To answer your question: I got hit by a car on my bike, can I sue? In order to put forward a claim, someone else's negligence must have caused the accident in which you sustained harm.
For someone to have been negligent, they must have:
Owed you a duty of care

Breached the duty of care they owed you

Caused an accident that resulted in you sustaining harm as a result
Additionally, your case must meet the personal injury claim time limits. Generally, as per the Limitation Act 1980, you have three years to put forward a claim. 
The three years may start from two different dates: from the date the accident occurred or the date you gained knowledge of someone else's failings causing or contributing to your injuries. 
Are there any exceptions to the time limit?
There may be exceptions, such as if the person is under 18 years old. In these instances, the person will have three years from the date of their 18th birthday to put forward the claim themselves. 
Alternatively, before they turn 18, someone could claim on their behalf by acting as a litigation friend. For instance, a parent, guardian or solicitor could do this. 
A similar exception may apply to those who lack the mental capacity to pursue a claim themselves. If the person doesn't recover their mental capacity, the three-year time limit will be frozen indefinitely.
During this time, a litigation friend could pursue a claim on behalf of someone who lacks the mental capacity to claim themselves.
However, if the person recovers their mental capacity, they will have three years starting from the date of their recovery to put forward the claim for themselves. 
Where Can I Get Free Legal Advice?
Do you have evidence of someone failing to uphold the duty of care they owed you and causing you harm as a result? If so, it might be a good idea to seek legal advice on cycling accident claims. 
If you want to access the services of a solicitor, you could do so on a No Win No Fee basis. This means that if your solicitor fails to win your claim, you won't be asked to pay solicitors fees. 
In the event that your solicitor succeeds in winning your claim, you will be required to pay a fee.
However, it's legally capped and will be deducted from your compensation package as a small percentage. It's also something your solicitor will make you aware of beforehand. 
Thank you for reading our post exploring the question: I got hit by a car on my bike, can I sue?