Whether it's long-distance cycle routes or family outings by bike, this article gives you the inside track on the best cycle routes in the UK.
Perhaps you're feeling ambitious and want to push yourself with that mountain cycling tour route in the UK? Or are you just looking for the best cycle route planner for a scenic and relaxing trip with the family? With the five best cycling routes in the UK explained, this article can help you get in gear.
Bike riding has never been so popular and as a healthy, environmentally friendly pastime there are few others to compare.
Bike lovers everywhere are keen to get on their wheels and explore the beautiful UK countryside, but where? The last thing you want is to get stuck in endless red lights in the thick of urban traffic. But perhaps you don't really want to find yourself lost up a mountain with a three-hour uphill slog to the nearest pub either.
This article filters out the highs and lows and offers you a concise selection of the five best cycle routes across all four regions of the UK.
What Are The Best Cycle Routes In The UK?
Top 5 Best cycle routes in the UK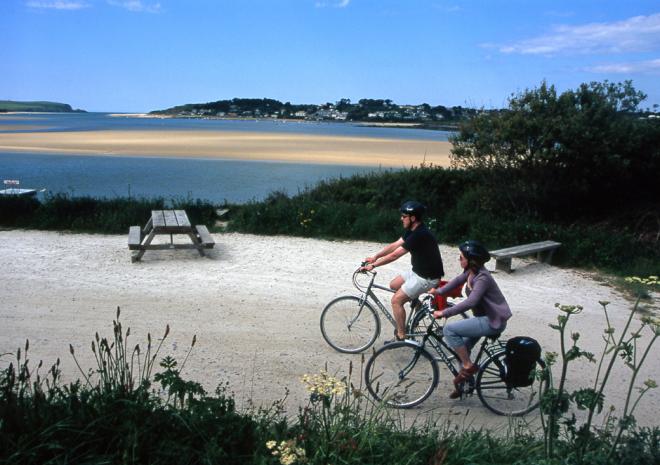 The Camel Trail – Cornwall
Just as romantic as it sounds, this mostly traffic-free path meanders through an Area of Outstanding Natural Beauty past the Camel Estuary near Padstow.
Utilising the disused railway path, it's flat enough for the whole family to cruise by whilst marvelling at the abundance of natural wildlife like otters, kingfishers and swans. This makes it one of the best cycle routes in the UK.
Nearly an 18-mile lap of surface type 'road', there are some rising sections but nothing too stressful. Just enough to keep it interesting, whatever your level of expertise on a bike.

Assynt Achiltibuie Circuit, Scotland
If it's the breathtaking splendour of nature you're seeking, this tour along the edge of the Highlands is sure not to disappoint.
A mixture of single track and class A roads, the coastal scenery is distracting enough to require that you ride with care. Starting at Achiltibuie and finishing with the haunting majesty of Ardvreck Castle, this challenging track is as beautiful as it is expansive.
At around 122km, with an elevation gain of 1,468m, this route offers the sort of ever-changing panorama that Scotland is world-famous for. You may need to pull over often and just admire.

Lon Las Cymru Trail – Wales
Though one of the best cycle routes in the UK, it's not for beginners. This cycle route traverses some of the most demanding terrains in Britain, from the Brecon Beacons to the edge of Snowdonia.
Starting at Cardiff Bay, this route offers all the spectacular scenic delights that Wales can offer –  dramatic hilltops, verdant valleys, glittering estuaries and straights.
Long regarded by the cycling community as one of the finest paths to tackle for stamina, it's recommended that you pace yourself.
At nearly 400km in distance, allocate yourself a good five days to properly savour this route.
Antrim To Randalstown – Northern Ireland
This beautiful section of the Loughshore Trail runs adjacent to the Six Mile Water river, before it's crossed by the glorious stone arches of Deerpark Bridge that lead you into the grounds of Clotworthy House.
Other notable distractions are the railway viaduct and an abundance of truly unspoilt woodland. Restful to the point of serenity, this bike route is one to really build up a steady pace and then kick back as you coast through the greenery.
Randalstown is a short distance where a choice of genuinely excellent pub lunches awaits. A 2.08km exaggerated 'U' shape with three-quarters of it waterside, the lowest elevation is 11m and highest 23m making it a steady and smooth terrain.

Bristol And Bath Railway Path – England
13 uninterrupted miles of verdant pathway make this one of the best cycle routes in the UK. Completely family-friendly and also with disabled access.
This route offers a delightful connection between the two cities, potentially in under 2.5 hours. This cycle route can be very popular, especially in the summer months, so it's more for those seeking a jovial thoroughfare than an isolated stretch.
This family-friendly vibe makes it very popular with young people learning to get to grips with their first grown-up bike. Also, with an average grade of 0.0% and highs and lows of 80m and 12m respectively, no one is being thrown in at the deep end of power cycling.
Get On Your Bike!
We hope the brief descriptions of these marvellous cycling routes have inspired you to get out there. If there's a better way to stay healthy and savour the ravishing landscape of the UK, we'd like to know about it!
If you're finding your own way by bike, always check ahead to get the lay of the land. Also, let us know if you find a new route that you think we should know about. We're always on the lookout for the best new cycling routes near you. If you're using a 'best cycle route planner' or new App, why not share it with your fellow cyclists?
If it's long-distance cycling routes you've discovered, the best cycle route planners or better ways of using Strava we want to know about it.
Cycling in the UK has never been so organised and exciting, so let's keep the momentum going.
Top 5 Best cycle routes in the UK – You May Also Like
For more information about bike safety, Cycling UK is a trusted resource. If you're thinking about which bike is right for you, whether it's mountain or hybrid, second-hand or folding, check out this Which? guide.
Also, find out more about the best cycling routes for beginners and what to do in sudden cold and wet conditions while cycling.
Find out what you could do if you've been hit by a car on your bike and been injured. We also have a guide on the 5 best cycling routes in Warrington.
If you have any questions about the best cycle routes in the UK, please contact us.